1080p/ 720P HDTV in a Super8 camera: Super8MAX/HDTV
You can get soon a modified Super8 camera with a digital video capture system: Super8MAX/HDTV
The "old" Super8 camera lenses are often quite better than many videolenses! Shooting with this camera gives you an unknown filmtouch to your videos.
The camera is converted with the special 1080P videosystem which has to be connected to your laptop (or desktop)! For livesound a connector for your microphone is added .
The videosystem has a 1080p sensor (up to 30Hz). Together with your Laptop, roughbook and appropriate Software you can capture now HD Video with your Super8 moviecamera.
For 1080p you need a Windows system with minimum 3Ghz 4core prozessor and 4GB RAM (lower Ghz prozessors results in lower fps and pixels).
Together with the Super8MAX videosystem you will get the capture software (Windows XP / vista / 7 - sorry no MAC!). The output for your editing system is in .AVI format(mjpeg, YUV....). Several capture settings and filters are possible.
With this videosystem you will get videos with an unknown touch.

You can do previews on your laptop before shooting real film with a Super8 filmcamera and S8 film.
This video feature is available as a service for your camera or you can buy ready modified Super8 cameras of different brands. Please ask.
Please note: this videosystem gives additional possibilities with unknown videotouch. E.g. for special effect scenes in TV or 2K digital cinema productions. It is not to compete to professional or semi-prof video or against acetatfilm.
Analog acetatfilm has much more picture informations than any HDTV film! You´ll never get the same visual result with the digital version.
For highquality postproduction or archives use the analog film.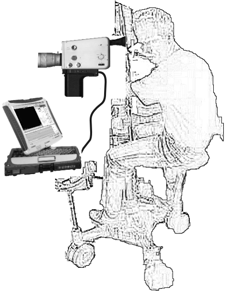 Technical background Infos for Super8 cameras and older projects:
Filmscanner Telecine background: